I swear that I didn't purposely search for bloody and gory games
during exam week
but by chance I came across this game on
Ocean of Games website
(lots of free download games there). Without hesitation I just hit the download button and I am obsessed about it until today. Even thought I enjoy its platform type gameplay, there is a bit controversial about the storyline of this game (ahh usually this is the thing that attracts people's attention). Compared to
Catherine
and
The Witch's House
, the storyline of this game is relatively unimportant, in my opinion.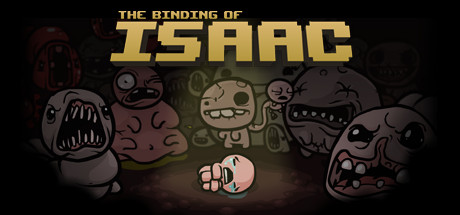 This is the image that caught my eye. I have no idea what it is about until I downloaded it.
The main character, Issac (obviously it's him) was a little boy living happily with his mother, until one day, his mother heard god's voice saying that he was sinned. Eventually, Issac was deprived from his toys, his freedom and finally his mother wanted to kill him. He ran and jumped into an open trapdoor. That's where you begin the game. You kill monsters (tons of them with different characteristics and difficulties), collect weird stuffs that enhance or degrade your power (you will feel surprised that Issac will have a different look according to the stuff you collected), gamble (hahaha yeah, literally gamble), trade with the devil and lastly, defeat the bosses. If you die, you will have to start allllllll over again, but no worries, you won't feel like you are replaying the same stuff because the map arrangement will be different, so does everything. Unless you have died many times, or else you won't feel that frustrated, hahaha.
The starting image will change as you unlock the secrets. The game is good for laptop because all the controls can be found on keyboard.
There are 6 characters in total in which you have to unlock 5 of them (I did it in two weeks time and it was during the exam time). You start off using Issac, after fulfilling certain condition, you will be able to unlock the others. Each one has different ability and characteristics which makes this game even richer in terms of variety.
Challenges, where Issac will start the game with s special ability which is quite interesting as you don't usually obtain that ability easily in normal gameplay. The crossed out one is the one I have completed the stages.
Each stage will have at least one boss, some will have extra smaller bosses while special one will have two bosses (in return, you will have two treasure rooms too, check it out yourself =P). For the first time you play the game, the boss of the last stage is mom, the one who was trying to kill Issac. After you defeated mom, there will be more stages for the next time you play the game. More items or 'secrets' will be unlocked as you play through and of course, things get tougher. There are quite a number of endings too, that, you will have to explore yourself.
This unimportant storyline of The Binding of Issac is modified from the Bible
Genesis Chapter 22
where God asked Abraham to sacrifice his one and only son named Issac to test his faith. At the end, God stopped him from sacrificing his son. I believe that this is the issue that makes this game controversial.
As you can see, Issac appears as a crying boy who attacks with his tears. Poor guy.
There are simply too many items with different function and I can't remember all of them especially if you are new to this game, you will have totally no idea. So
Wiki
comes to the rescue! It is really useful if you don't want to figure things out on your own or you want some tips to get over some difficult stages. Just enjoy the game and avoid getting addicted LOL.